'Harold and Lillian' Year in Review, Oscar update, and More – a message from director Daniel Raim
Dear fans, friends, and family of Harold and Lillian,
2017 was an amazing year to watch Harold and Lillian: A Hollywood Love Story blossom, and I am excited to share the year's journey!
As many of you know, Harold and Lillian was one of 170 documentary feature films eligible for an Oscar in 2018. Although Harold and Lillian did not make the shortlist, there is a lot to be grateful for because 2017 blessed this small film with a relatively huge theatrical release, a TCM broadcast premiere, and even saved a life!
The journey began with a bit of a shock:
On Thursday, April 27th, 2017, I arrived in New York City full of excitement (and dread), as H&L was about to have its US theatrical premiere at the QUAD cinema in NYC. At that time, there was a lot of buzz about the newly remodeled QUAD cinema, and little buzz about H&L. Apart from our Cannes Classics world premiere in May 2015 and our DOCNYC FEST U.S. premiere in November 2015, the film was under the radar in the U.S. While I was mentally prepared to accept negative reviews from major national publications, I let out a giant gasp when I fired up my iPhone on the JFK tarmac and discovered that H&L received a New York Times Critics' Pick!
For the theatrical release, we were fortunate to partner with one of the very best and longest running arthouse distributors in the U.S.: Zeitgeist Films.
I loved working with Zeitgeist and deeply appreciate all their incredible efforts on behalf of H&L! Many thanks to the Zeitgeist team, including Zeitgeist Films visionary co-presidents Nancy Gerstman and Emily Russo and Zeitgeist Films design director extraordinaire, Adrian Curry. Also, big thank yous to our digital marketing guru, Sheri Candler, and our excellent publicist, Sasha Berman. And a very special thanks to H&L's brilliant co-producer and co-editor Jennifer Raim (who I am proud to be married to for 11 years today!) for encouraging me to launch a theatrical release in the first place.
And of course, many thanks to the star of the film, Lillian Michelson, who cast aside her stage fright and attended over 12 post-screening Q & As! A big reason for the film's success was Lillian's willingness to bear her soul during on-camera interviews in a deeply engaging, truthful, philosophical, and often hilarious way. Lillian was charming, funny and dazzling during the Q&As, and audiences were delighted to meet her afterward. (I will close this letter with a powerful story Lillian shared.)
While we started with the dream of screening H&L in 12 cities, things changed quickly after our Los Angeles opening weekend netted the highest grossing film in all three Laemmle cinemas. Lillian, animator Patrick Mate, composer Dave Lebolt and I signed over two hundred posters that we gave away at screenings. (Our 24x36 original print movie posters are available for purchase on the H&L website.) Susan King wrote a fantastic piece about the film for the LA Times, and film critic Sheri Linden gave the film an LA Times Critics' Pick. While most docs screen for one week in theaters, H&L was privileged to play in three Laemmle cinemas throughout Los Angeles County for five weeks. Ultimately, H&L screened in 68 cities in the U.S., and the film currently has a 100% rating on Rotten Tomatoes!
Thank you audiences and film critics alike!
And thanks to Anais Clanet at Widehouse, H&L was picked up for theatrical and television release in several countries, including Spain, Italy, Israel, Finland, India, Mexico, and Japan. H&L screened for seven months in Japan, and is still going! (I went to Japan for the press junket in April, and filmed a documentary about one of my favorite directors, Yasujiro Ozu. More on that next year!)
On September 13, after our five-month extended theatrical release came to a close, Turner Classic Movies (TCM) hosted the broadcast premiere, which was also a huge success! Ben Mankiewicz did a fabulous interview with Lillian at MPTF, and a fantastic live-tweet during the broadcast premiere was hosted by Raquel Stetcher from Out of the Past. And of course, many thanks to Charles Tabesh of TCM for sharing H&L with the TCM audience!
In October, Kino Lorber released H&L on DVD & Blu-ray, and on-demand on iTunes and Amazon. Again, many thanks to Adrian for designing the DVD & Blu-ray packages, and to our brilliant animator Patrick Mate for creating the cover illustration. The DVD & Blu-ray are region free, ship world-wide with over 2-hours of great extras, and currently on sale at 40% off retail on our Store.
So, what impact can a film have on audiences?
Lillian shared a story that shows how a film can literally change people's lives: Lillian was meeting audience members after a post-screening Q&A, and there was a line out the door to meet her. A young woman approached Lillian and told her that she had decided to "do away" with herself, but after seeing the story of how Harold and Lillian overcame their life challenges, this young woman decided to keep going. (Of course, Lillian being Lillian, she lovingly made the young woman promise to take care of herself and to always remember that she is important.)
Movies can have a profound effect on people. I am deeply grateful to everyone who helped bring this story to life and made it possible to be seen by tens of thousands of people around the world in 2017.
Much love and gratitude to all of you that helped make this happen!
Best wishes, and may you all have a great 2018!


Daniel Raim
Writer-Director-Producer
Los Angeles, December 28, 2017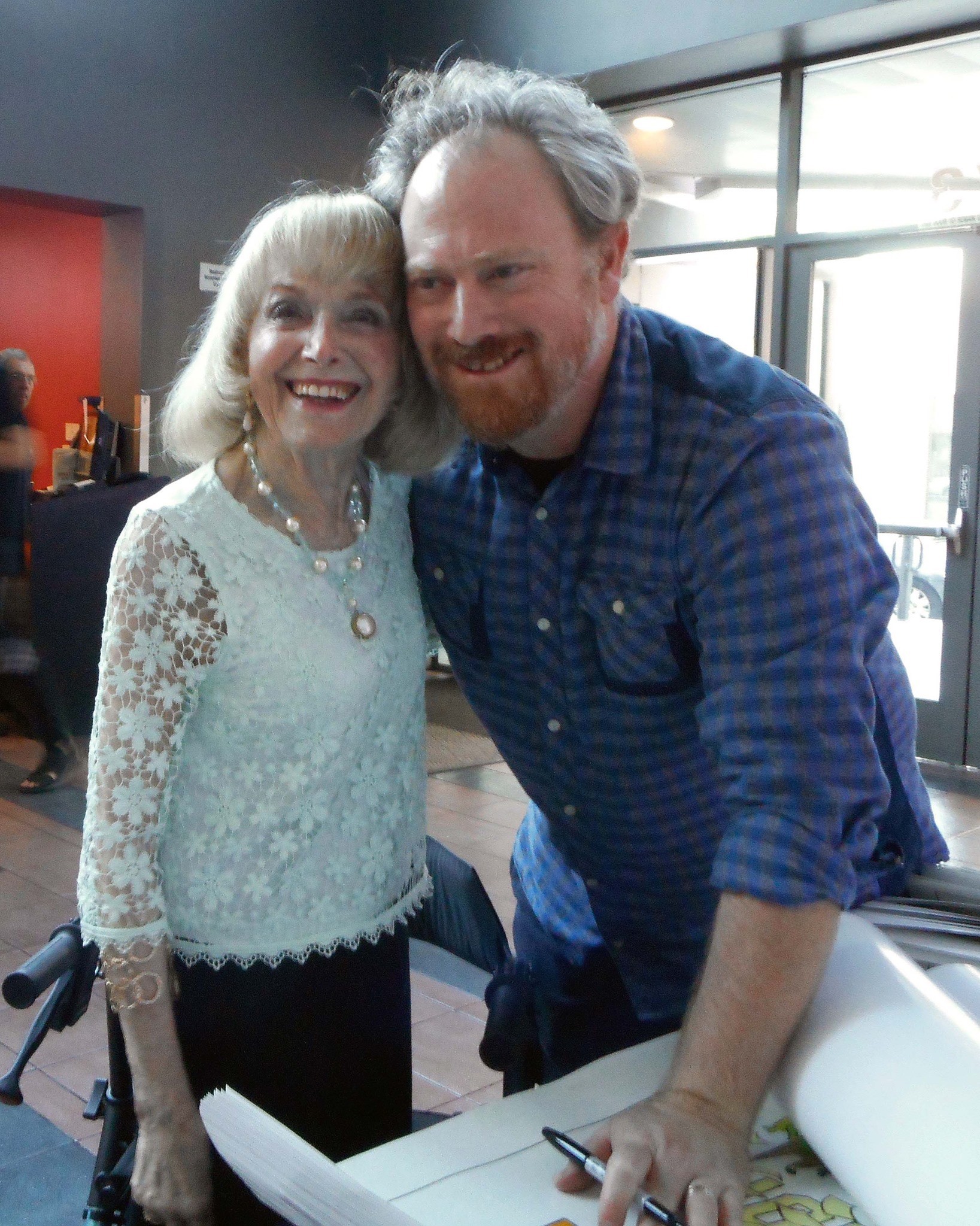 Daniel and Lillian signing posters at the Laemmle Playhouse 7 in Pasadena, May 2017
Special shout out to the following people who helped make our theatrical and television premiere extra special:
MPTF, Bob Beitcher, Jennifer Clymer, TCM, Chris Meledandri, Sarah Rothman, Danny DeVito, Graef Allen, Peter Davidson, Gérald Duchaussoy, Cannes Classics, Basil Tsiokos, DOC NYC, Eugene Suen, Sheila Benson, Paul Coyne, Justine Jacob, Mary Ann Grasso-Anderson, Josh Braun, Submarine Entertainment, Jim Hemphill, Filmmaker Magazine, Godfrey Cheshire, Tom Walsh, Debbie Patton, Rose Knopka, Chuck Parker, ADG & ADG Archives, Emma Griffiths, Rene Ridinger, Patrizia von Brandenstein and Stuart Wurtzel, Nancy Buirski, Anne Coco, AMPAS, Teri D'ovidio, Hilary Helstein, LAJFF, Karen Stetler, Kim Hendrickson, Hillary Weston, Andrew Chan, Criterion, Amy Halpin, IDA, Dave Lebolt, Angela Lepito, Richard Lorber, everyone at Kino Lorber, Sharon Lee, Scott Liggett, Leonard Maltin, Alan Michelson, Dennis Michelson, Eric Michelson, Anahid Nazarian, Jerome Raim, Raja Ramadurai, Jay Rosenblatt, SFJFF, Orly Ravid, TFC, Igor Shteyrenberg, Wynn Thomas, Judy Thomason, Anath White, Chris Welles, Emma Myers, QUAD cinema, Orly Yadin, Elise Cochin, Océane Mailharrin, Morgane Delay, Patrizia Mancini, Kohsuke Sunny Arita, Shunsuke Hirai, Lance Sticksel, Emily Swan, Susan Zech, The American Academy of Dramatic Arts, Anastasia Plazzotta, Isaac Zablocki, JCC Manhattan, and so many more!