Shining A Spotlight On Two Unsung Cinematic Heroes
Harold and Lillian's work influenced hundreds of Hollywood's most acclaimed classic films, many of which we have highlighted on this blog. They loved their work, they supported each other, and they never sought out the spotlight.
Below, read an excerpt written by director Daniel Raim and his producing partner wife, Jennifer Raim, about what drew them to these two special people.
"We frequently hear the adage that cinema is a collaborative art form. However, when the film is finished and the time comes to attribute praise, much of that collaboration is lost. Although Lillian's research career spanned almost 50 years and hundreds of movies, and she was revered for being the best at finding information that 'you weren't allowed to see.' Lillian received just seven on-screen 'Research' credits. In Lillian's opinion, research is 'lost in the mist of memory': "We're the first ones who are asked to do anything on a picture when it's really 'in utero,' so to speak, and there are so many fits and starts in getting any project off the ground—in fact, to me it's a miracle that any movie is ever made—that by the time the completion comes around, we're totally lost from view… It just seems that we do a rather useful thing, and we should be remembered."
Similarly, Harold's storyboarding was very often uncredited. Like research, storyboarding also happens toward the beginning of a film, creating a conception of how the film will be shot. Unlike research, however, storyboarding is (as production designer Jim Bissell describes it) 'an awkward position.' Storyboard artist Gabriel Hardman (Inception (2010), Logan (2017)), describes one of the difficulties of the position: "You're in a very strange place where you are working with the director, basically, on the highest level of the film, yet you're also below the line. You're not one of the key players…as far as everybody else is concerned."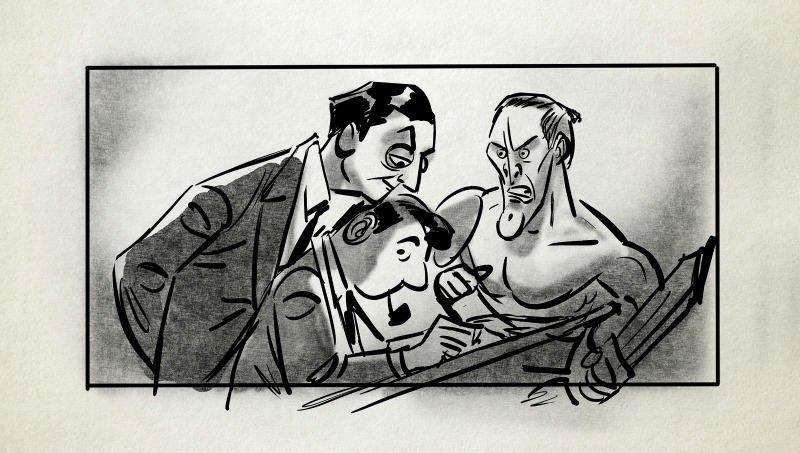 Illustration by Patrick Mate: Harold working on Spartacus for Stanley Kubrick
While directors, cinematographers, and stars may stand out and receive praise (rightly so), there are a multitude of other people like Harold and Lillian whose contributions are unheralded, and yet immense. Their work enhances the indelible emotional impact, the cinematic spectacle, and the truths that the best American films give us.
Perhaps it does not really matter who came up with which shot. What does matter is that we recognize and appreciate the contributions of hard-working behind-the-scenes masters that lend their lives and their genius to help create the movies. Harold and Lillian: A Hollywood Love Story highlights two of them.

To read more about Harold and Lillian from the people who worked with them, go to eatdrinkfilms.com