Putting the Jazz in Coppola's The Cotton Club
This weekend, our film opens in New York's newly refurbished Quad Cinema, Greenwich Village's first ever multiplex originally opened in 1972. In addition to playing our movie, the programmer also has added screenings of some of the films that Harold and Lillian worked on, such as Fiddler on the Roof, Full Metal Jacket, and The Cotton Club. The film has received stellar reviews from The New York Times (Critic's Pick), Village Voice, and NPR. We're really excited to get the film out to theaters. Tickets for the Quad are here: https://goo.gl/UZbojz . The film will also screen in Boston on May 5, and several Los Angeles venues starting May 12. See our Screenings tab above for all screening dates so far.
For today's #ClassicFilmFriday, let's look at the New York-centered film, 1984 Francis Ford Coppola, jazz extravaganza The Cotton Club. Set in and around the historic 1920s-30s Harlem jazz club of the same name, where terrific black performers entertained a whites-only audience, the film suffered from a confusion of storylines, an overlong run time (2 hours, 8 minutes), and a mixing of genres between a gangster film and a musical. Despite a poor reception at the box office, the film was nominated for Best Art Direction (Richard Sylbert and George Gaines) and Best Film Editing. Since its initial run, The Cotton Club has appeared on many Best Of lists, including those by Siskel and Ebert.
Lillian Michelson was brought on by Richard Sylbert to provide research on The Cotton Club. Lillian remembers:
"Dick Sylbert, for whom I had worked in the past on really challenging films, came to me and says, 'We're doing 'Cotton Club'—and Harold was a sketch artist on that— and he said, 'What kind of research do you have?' Well, my library was started in 1932 at Goldwyn, and somebody had loved New York night clubs. Somebody went and photographed everything in the Cotton Club. I went to this folder with these amazing photographs. There wasn't a person in them because they were taken for research purposes, even a measuring stick—every detail that you could possibly think of from the '30s, which, of course, was the time that the picture took place: Harlem in the '30s."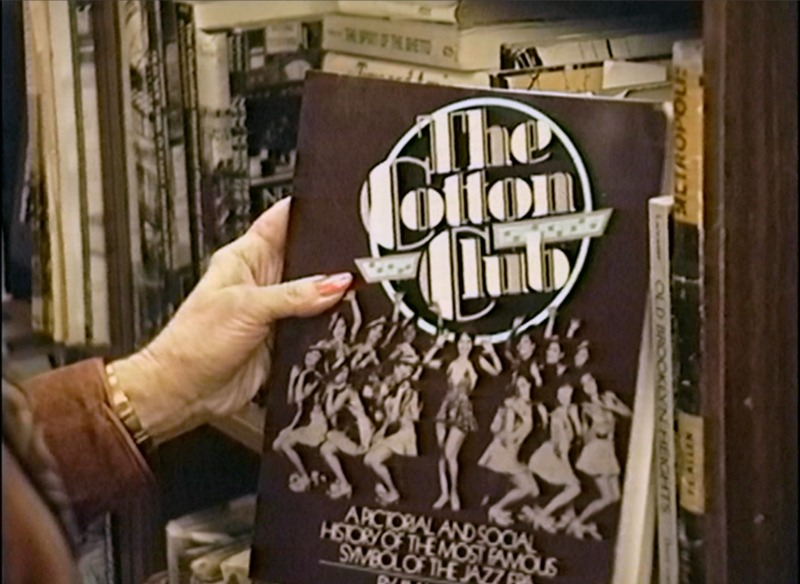 "But it was a challenge for other things in the movie. The one wonderful thing about researchers is that we all try to help one another. I called the museum of the City of New-York Historical Society. This wonderful lady remembered seeing pictures of something I needed exactly. She ran up to their attic and she brought it down and she says, 'I found it, I found it.' I knew from the tone in her voice that wonderful feeling when you discover something that you need exactly and you put your finger on it. It's like no other feeling in the world really, and she shared it and she helped me. That's what researchers do."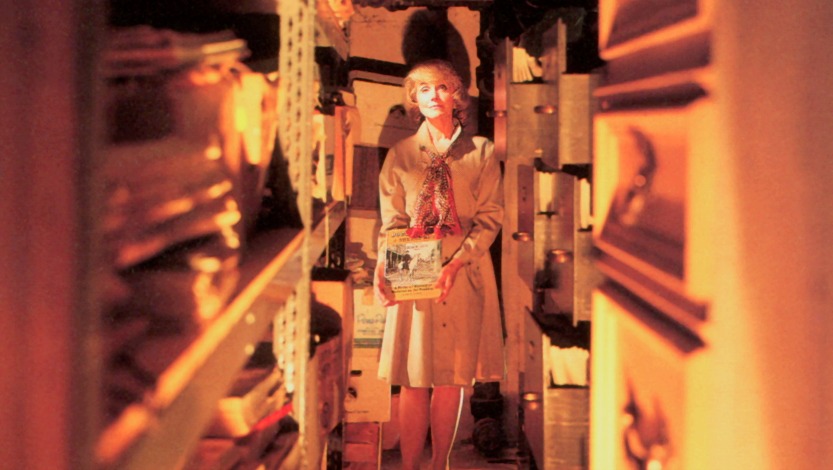 Lillian in her library stacks
Meanwhile, Harold Michelson was hired to create the storyboards that would be used in the montage sequences that explained the setting of movie, both the physical location and the cultural tone. Harold remembers:
"I had to do a montage explaining the life of these people, and it started off with Harlem and how Harlem was in the beginning and how racism crept into their lives. And their soldiers who went to France in WWI came back, a bunch of heroes, and also showing how the neighborhood was changing. There's a whole bunch of white kids standing here and a moving van, and the moving van moves away revealing three little black girls and then the montage of dancing and the police. It was not in the script of what happens to a neighborhood that's changing."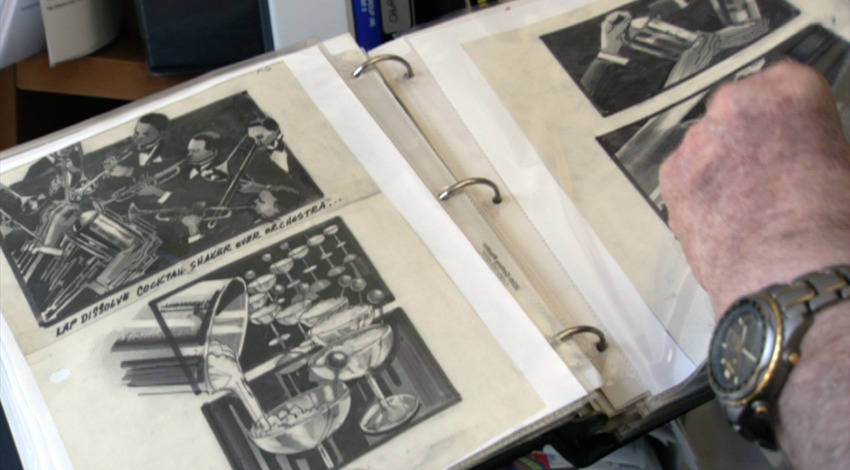 "Then there was a murder sequence that somebody was supposed—somebody, a waiter, was slicing ham here for a party. I show him slicing the ham, and there's somebody with a knife coming up and slashing somebody and stabbing him. It was a murder. Then we had an alternate one, inserts, just continuing—alternate 2, alternate 3, of the same thing: how he would go about slicing up somebody. And so we went to alternate 4 and alternate 5, and we just did all these. The director would look at these and make his choice if he wanted any of them, but that's the contribution that you give: 'Here are all the choices. Take your best shot."
Lillian tried to identify what Coppola liked about working with Harold. "What Francis liked about Harold, what any director would like about Harold—that he was extremely, extremely talented. He had the mind, the cinematic mind, to go into any director's mind and visualize how they would visualize a scene and draw it that way. There was very little mechanical worry for a director—mechanical: I mean, where to place the camera, where to have the wild wall. Harold was one of the most affable, genial, congenial people, very funny, and could relax a whole set."
If you like the recollections about the making of classic movies on our site, please share them. #haroldandlillian