Celebrating Fifty Years of The Graduate
This weekend, TCM will mark the 50th anniversary of Mike Nichols' iconic drama, The Graduate, by screening an ultra-high-definition 4K restoration of the film in 700 theaters nationwide on April 23 and 26. The film is regarded as the quintessential 1960s story, with its defiance of societal mores and a young, middle class protagonist who just can't bring himself to fit into adulthood, preferring to drift in life for a while.
When Harold Michelson first read the book upon which the film is based, he wasn't impressed. "I got a call from Mike Nichols - 'Come on over to Paramount, we want to talk.' He had this book, this soft-cover book, and he said, 'I want you to read this. Funniest damn thing I ever read.' So I took it home and I read it. I didn't think it was funny. It was a soap opera, if there ever was one. I gave it to Lillian to read, and I said, 'Did you think it was funny?' She said no." Nevertheless, he signed on to work on the film.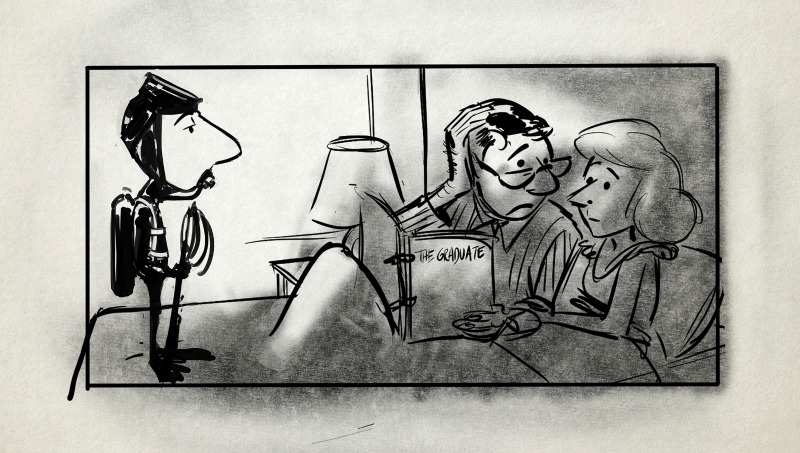 Illustration by Patrick Mate.
"Nichols did rehearsing on the stage. They all sat around a table and read the script. I was there, and we had a mock-up of the bedroom, with tape, and there was the bed there. As they were talking and going through the motions with Anne Bancroft, I would be walking around to see what would be good shots for this so I can draw it up. I'm trying to get as many different compositions as I can without making it a dull two-headed monster or a two-headed screen of just two people talking and cutting back and forth, which makes it absolutely deadly. I don't care how good the dialog is."
"There was this scene, and I decided to have in the foreground the angle of her leg, which created a triangle, and put Dustin Hoffman in between. We saw him immediately, and you also got the feeling of a sexual escapade. It worked. They did it that way."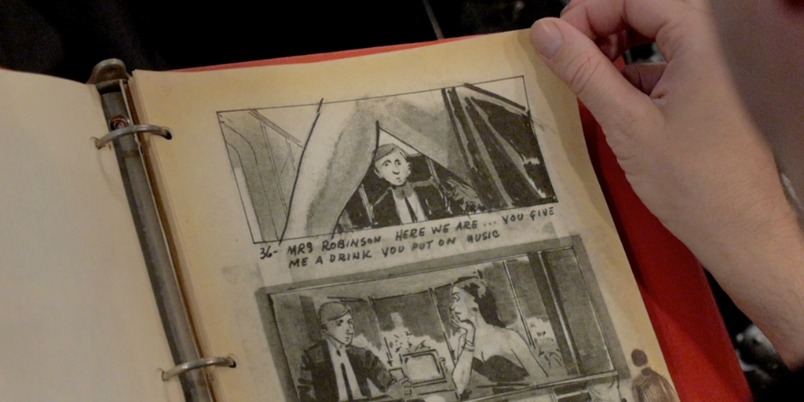 Another sequence that Harold pre-visualized was the scene known as April Come She Will after the Simon and Garfunkel song that plays over it. "When they were in the hotel room and they were finished with their lovemaking, I took a shot from the TV set to Dustin. And I had her walking back and forth. He is watching TV. You just see him. You see her, you don't see her head. It's from her neck down to knees. And she walks past in front of the screen, getting dressed. She goes from left to right and she puts on her underwear. As she goes by, she has more clothes on. Then from right to left she puts on something else. And finally the door slams. I just did it. I thought it was a hell of a shot, and I'm proud of it."
"As we went through the picture and as they were shooting, Mike Nichols had this sense of timing and of comedy that's fantastic. I found myself laughing like hell at the dailies. It was really funny. I mean, what he saw in it and what I saw in it were two different things. And he made it - that's strictly a director's thing with the dialogue."

Thanks for reading this #ClassicFilmFriday post. In one week, we open Harold and Lillian: A Hollywood Love Story at the newly refurbished Quad Cinema in Manhattan. Tickets are on sale here: https://goo.gl/NWifI6. This will be followed by runs at 3 Los Angeles Laemmle's Cinemas (Santa Monica, Pasadena and Encino) starting May 12; The State Theater in Modesto, CA May 12-18, The Grand Illusion Theater in Seattle, WA May 19-25; Indiana University Theater, Bloomington, IN May 25-27; Museum of Fine Arts, Houston, TX May 26-28; Gene Siskel Film Center, Chicago, IL May 26, 28 & 30; Cleveland Cinematheque, Cleveland, OH June 3-4; Wexner Center for the Arts, Columbus, OH June 8-9; and Desert Film Society, Palm Springs, CA July 22. We're still booking theaters so check back on our Screenings page: https://goo.gl/sqYlda or sign up for our newsletter to see when the film might be in your city. #haroldandlillian