Bloomers For Fiddler on the Roof
Norman Jewison's 1971 musical film Fiddler on the Roof was based on the 1964 Broadway musical of the same name and shows the life of Tevye, the father of five daughters, and his village's attempts to maintain Jewish religious and cultural traditions when 20th century ideas are starting to take hold on personal lives. The film won the 1972 Golden Globe Award for Best Motion Picture-Musical or Comedy.
Lillian Michelson did some unusual research to provide intimate details to the costume directors working on the film:
"When I was working on Fiddler on the Roof, I found that it was a fascinating, fascinating movie to work on. Bob Boyle was the production designer, and Harold was a sketch artist. Bob did a tremendous amount of wonderful research, going over to Europe and photographing the old synagogues and the old streets and the old shtetls."
"I went to the Jewish library and I picked up a book about it, an autobiography written by a man for his grandchildren. It described living in shtetl at that time, turn of the century, and how he went to get eggs for his mother, through the dark, dark forest. He was so afraid of bears. He was only seven or eight years old. I read this book, and I was entranced."

"I could give them the costumes. That was very easy because I had a lot about European costumes in that period and what the Russian peasants would wear. I don't know whether you remember, there was this song, Matchmaker, Matchmaker, and there's a line of laundry and the daughters of Tevye are hanging their underpants, their bloomers, on it. The costume designers said to me, 'We don't know how to make these underpants.' I said, 'Well, I don't have any pictures of that. Nobody took pictures of Jewish girls' underwear in 1890s or '90s. They said, 'Well, what are we going to put on there? It has to be right.' Of course, everything has to be right."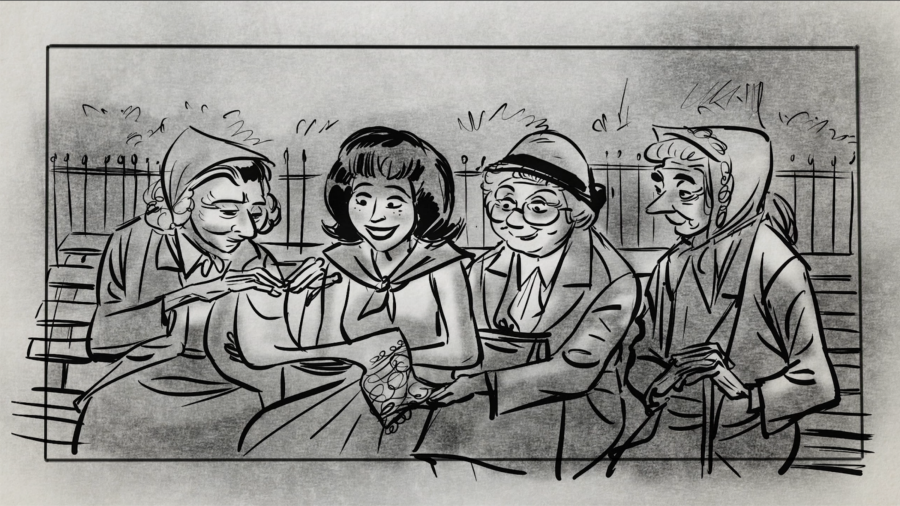 Illustration by Patrick Mate
"So, I decide to go down and sit on a bench at Fairfax and Beverly, which is a Jewish section of Los Angeles.I sit there, and little old ladies are sitting right by me. I start talking about this and that, getting pictures of this for a certain project—I didn't mention the movie—and does anybody remember what you wore in those days? Theywere of that age."

"They got so excited about helping me. The people were so wonderful, just wonderful. One little old lady—and she couldn't run very fast—walked as fast as she could to her apartment. She says, 'You stay here. I'm going to my apartment and I'm going to cut you out a pattern because we had to sew all our underwear.' She brings me back a pattern with little scallops on the edges of the knee-length bloomers. I didn't do anything. This lady did it all. But this is how things happen. It was just a most marvelous experience, really. These ladies are responsible. I thank you, wherever you are."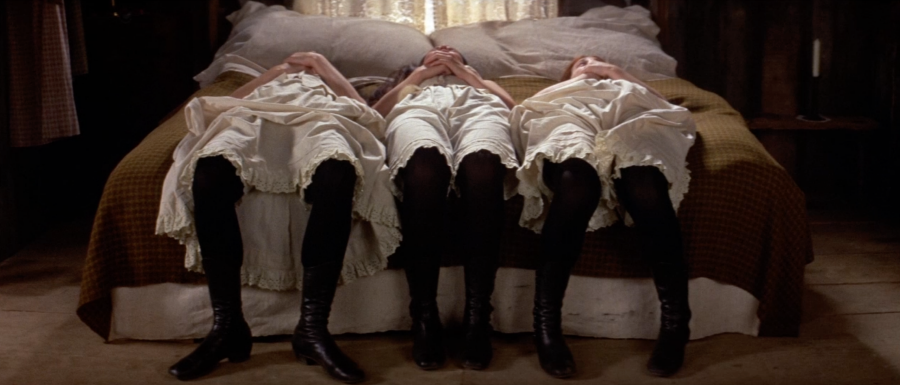 Thanks for reading today's #ClassicFilmFriday post. If you enjoyed it, please share. Harold and Lillian: A Hollywood Love Story opens on April 28 at the newly refurbished Quad Cinema in New York. Sign up to our email list to find out when the film is available in your area: http://haroldandlillian.com/ #haroldandlillian