Film Research for Polanski's Chinatown
"Chinatown was a fascinating movie to make. It really was. I learned a lot about water, the power of water and the power of people who think that they own water."-Lillian Michelson
"People don't understand the story, Chinatown—what does this mean? Well, it's about water; it's about these different things, but why is it titled 'Chinatown?' It has to do with Los Angeles. It has to do with the cultural differences that went on in Los Angeles at this time. Chinatown was a place where the people who lived there could not be understood. In other words, they kept to themselves. There's a certain way of doing things in Chinatown and if you went there, you felt like an outsider within Los Angeles itself. It's like another country. It's like being in China."-Marc Wanamaker, renown historian, archivist, and lecturer in film history.
In 1973, acclaimed director Roman Polanski was asked to return to Hollywood by Paramount Pictures production chief Robert Evans, who had decided that Chinatown would be his first personally produced film, to direct an original and unusual screenplay by renowned script doctor, Robert Towne. Chinatown is considered to be a revival of the film noir genre and resembles the classic private eye novels of Raymond Chandler in which a hard-boiled ex-cop, turned private investigator (Jack Nicholson) meets a femme fatale (Faye Dunaway) to solve a multi-layered mystery. The film is set in 1930s Los Angeles and uses the water wars of Southern California in the early 20th century as its source of inspiration.
Lillian Michelson did research on the period to aid art director Richard Sylbert and costume designer Anthea Sylbert in their work on the film. Both of the Sylberts were nominated for Academy Awards for Chinatown.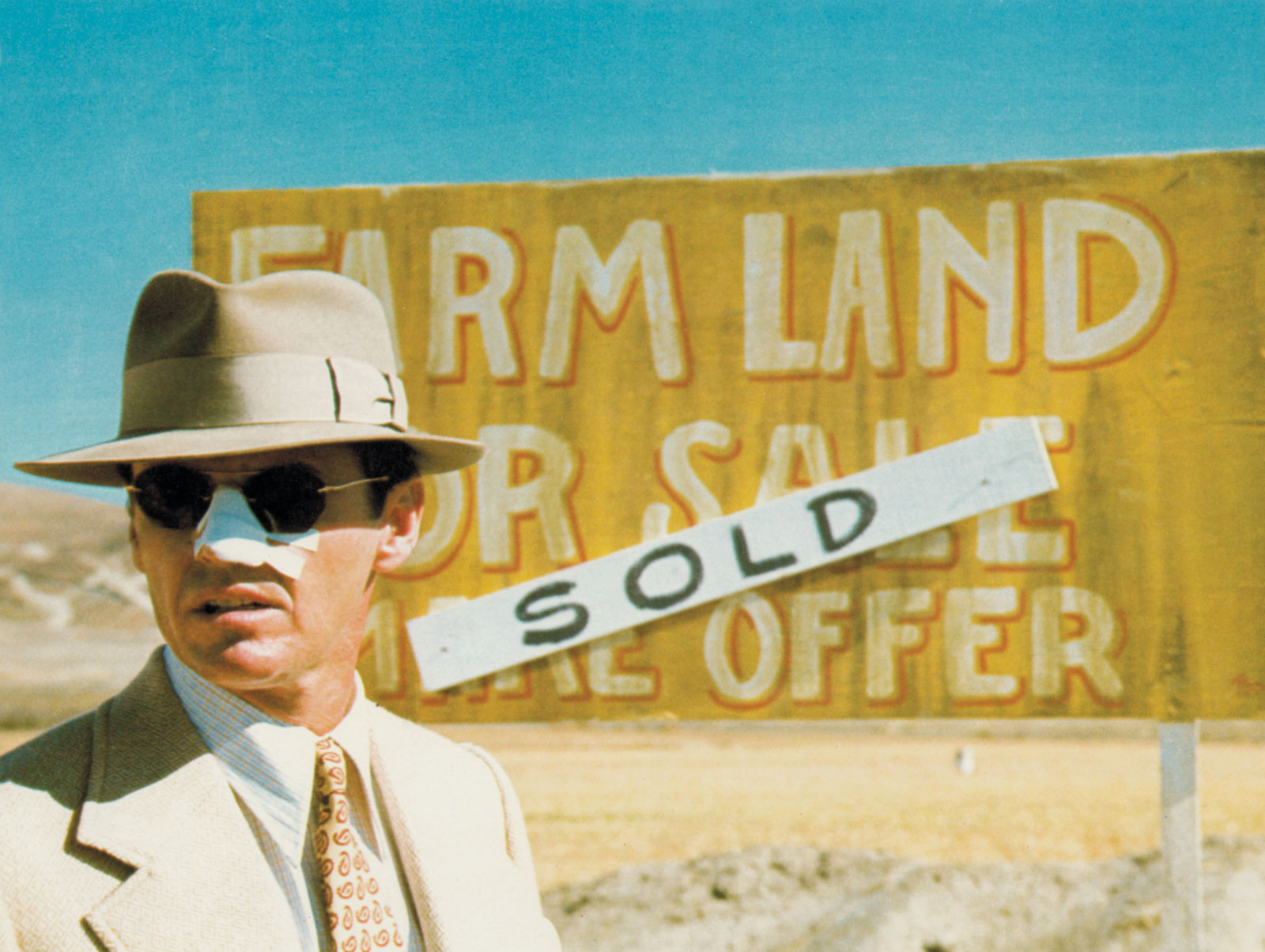 Lillian Michelson remembers:
"I had to visit an old folks' home, a yacht club, a modest home in the south of L.A., besides the mansion, and the offices were very interesting to do. For the offices of the private eye—that was fascinating. There was a lot of research I did on that, books and clippings. I knew an old placement when I had to do a lot of research on police, and we became friends. There was a police library, and there were a couple of pictures that he let me look at. I couldn't do anything with them, just look at it, so I tried to memorize everything in the picture of what a private eye's office would look like and what the police department looked like in those days. They had a lot of crime pictures."
"I remember, I never got letters of complaint in my research, which is a good thing because if a researcher makes a mistake, she doesn't stay a researcher very long. If you make many mistakes, you don't get many movies to work on. But somebody wrote when I did Chinatown and they said, 'Don't you remember that there weren't any bifocals invented in 1930s?' I took a great deal of pleasure in writing back, 'Benjamin Franklin invented the bifocals in his time,' so there. It was a great feeling. When they honed in on the spectacles in the fountain in Chinatown, that was factually correct."
Marc Wanamaker comments on Lillian as a researcher:
"What makes Lillian Michelson a superb researcher—let's use the example of Chinatown. She worked with Dick Sylbert, the art director on this, but it's also not just Dick Sylbert. It relates to the whole production values of the film being in a certain place. Say, Dick Sylbert or his subordinates would come in. They need certain pictures, information about a certain set, a certain feel, a certain location, something like this, and Lillian would show them the practical things, pictures and this and that, but it's not enough. You need to have a feel for it. You need to have a feel for the background of the period and the times and the characters. She would then give them further materials on what life was like in Los Angeles at that time."
"Lillian is one of the prime researchers because she has not only the materials to show people, but the know-how and the knowledge behind what she's showing them. See, this is what makes a great researcher. Yes, you can have a library of clippings and photos, and then an art director, a writer, or somebody comes in who doesn't know the subject, and you put pictures in front of them—but that's not enough. Lillian would say to them, 'What are you looking for? What do you need to see or feel from all this?' And they would then, of course, look at these objects on the pieces of paper, and then Lillian would show them some more and they say, 'Well, I really would like this feel of the 1930s,' or whatever. Lillian would give them a little background on what the '30s were like at this particular location."
"The story of Chinatown is about the water, without water there is no Los Angeles, and the corruption around the water, and the municipality, the police, and all kinds of intrigues. Most people don't know about the history of water of Los Angeles, and she would do her own research, on digging up the history of Mulholland, for example. Lillian would help them with the bigger picture, not just showing them an aqueduct or something, but get into the background of the corruption. It's a complicated script and a lot of undertones relating to it. Lillian was one of the facilitators to the people trying to put a production together to make it believable. She is one of these people that helped make a film believable."
Thanks for reading today's #ClassicFilmFriday post. If you enjoyed it, please share. Harold and Lillian: A Hollywood Love Story opens on April 28 in New York's Quad Cinema. Sign up to our email list to find out when the film is available in your area: http://haroldandlillian.com/ #haroldandlillian